World Para Nordic Skiing Championships
Prince George 2018
----October 25th, 2018, For Immediate Release---
Ultimate Promotions has been selected to supply medallions and trading pins to the World Para Nordic Skiing Championships. The company is based in BC's Central Interior community of 108 Mile Ranch and is approximately 3.5 hours from Prince George.
"It's such a honour to have been selected as the supplier for this event! We've been working with the Arctic Winter Games, FIS Ski Jumping and the World Flying Disc Federation for years on events for this size. It's amazing to have an international event taking place so close to home that we get to support!" says owner Craig Davidiuk.
The design for the medals was supplied by Andi Mortenson from Epic Design, a firm specializing in sports branding.
"The inspiration came from some cast metal maple leaves I seen on some benches in our Civic Plaza and I thought that it would be great to "wrap" our logo with the maple leaf for the World Championship medals!' says Event Chair, Kevin Pettersen.
This event is hosted by the New Caledonia Nordic Club, which boasts over 1500 members and takes place February 15th - 24th 2019 in Prince George at the Otway Nordic Centre.
The World Paranordic Championships are sanctioned by the World Paralympic committee.
[Quoted from the event website]
The World Para Nordic Skiing Championships are held every two years after the Paralympic Winter Games and represent the pinnacle of achievement for para Nordic athletes. These athletes, men and women, who are grouped into three classes for competition (sitting, standing, and visually impaired) will compete in four cross country skiing and four biathlon medal events over a period of 10 days. They truly embody the best of Paralympic sport and the Paralympic movement and will guarantee to astonish and excite the community about the possibilities of Paralympic sport.
Prince George will host approximately 140 athletes from 20 different Nations, over 200 coaches and officials, and expects thousands of visitors to attend over the duration of the World Championships. Following less than 12 months after the 2018 Paralympic Winter Games in PyeongChang Korea, the 2019 World Para Nordic Skiing Championships will be an exciting follow-up for the 114 contested world championship medals and represents an exciting opportunity for the IPC to continue growing the sport around the world. Len Apedaile, Head of Technical Control and Officiating with the IPC World Para Nordic Skiing Sport Technical Committee.
In addition to the medal contract, Ultimate Promotions is supplying a limited edition event trading pin. This pin will be available at Canadian Tire in Prince George at at the event.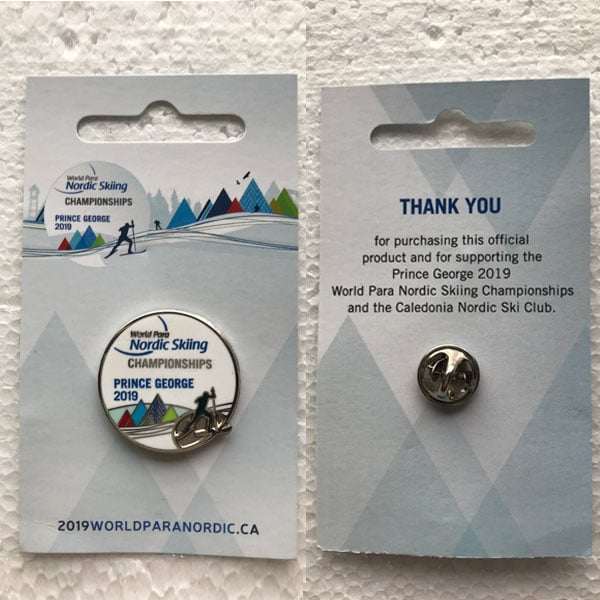 Davidiuk's family business celebrates 47 years in operation this year. The company was started in Alberta as a pin manufacturer in the 70s by his grandfather. He is the third generation in his family to supply custom pins and sport medals.
"This goes to show that small business can compete on a global level. High end sport medals are definitely in our wheelhouse and it's great to be able to showcase our abilities locally. We are so thankful that the event organizers are shopping North and supporting the community. " says Davidiuk.
An avid Nordic skiier since he was a boy, Davidiuk also volunteers with the local 100 Mile Nordics as the Communications Director.
"Having events like this so close by not only creates excitement about our sport, but builds capacity for more large events to be hosted in other Northern communities like 100 Mile House. We'll have 100 Mile Nordic members in attendance and volunteering so we can learn from this!"
Media Assets
Contact:
Craig Davidiuk , craig@ultiamtepromotions.biz 778-485-5111
Kevin Pettersen, Chairperson, 2019 World Para Nordic Organizer kpettersen@2019worldparanordic.ca
Medal Photos
PSD File with three medal images separated
https://www.ultimatepromotions.biz/hubfs/world-para-medals-all.psd
Back Of Medal
https://www.ultimatepromotions.biz/hubfs/world-para-nordic-meda-back.jpg
Trading Pin
https://www.ultimatepromotions.biz/hubfs/world-para-nordic-1.jpg
https://www.ultimatepromotions.biz/hubfs/world-para-nordic-cards.jpg