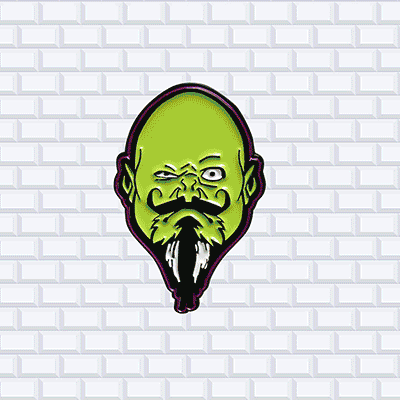 Q:
What is your minimum order for custom pins?
Answer:
Our minimum order quantity for custom lapel pins is 50pc. You should be aware that every 50pc order carries a $1 a unit fee for ordering less than 100pc. Ask for a quote for 100pc just so you can compare, and ideally, get more custom enamel pins. Read our article that outlines the hidden costs in buying enamel pins with no minimum.
Q:
How much to custom pin buttons cost?
Answer:
Most pins we sell are soft enamel, 1" to 1.5". This pricing grid will give you an idea of your cost for most pins. Pricing subject to change upon receipt of art. BUY NOW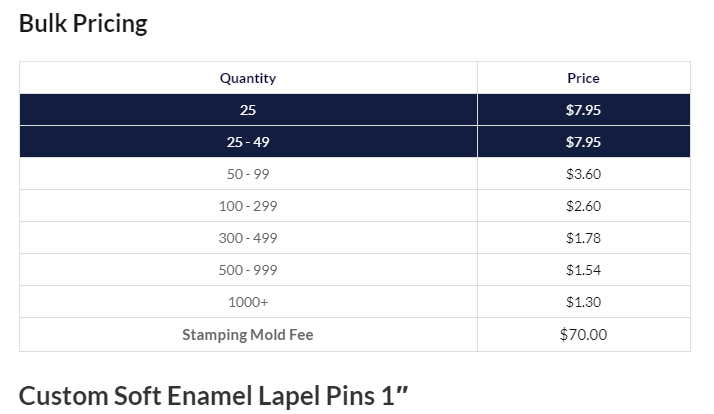 Q:
How long does my custom enamel pin order take?
Answer:
Our enamel pin factory ships most orders in under three weeks. Rush order requests are welcome but we can't ship any order in less than 10 working days. There are a couple of seasonal events which affect your ability to get pins in less than 4-6 weeks. (ie- Chinese Lunar New Year)
Q:
Are you an enamel pin factory?
Answer:
We import our pins from a trusted partner in China. Our family owned and operated a lapel pin factory in Alberta, Canada for 30 years which ceased operation in 2002. We work with an importer who has offices in Canada and USA offering us legal protection and the ability to rate our factory on a distributors site. We have a video that shows you the pitfalls of going China direct. [hint: we remove all that risk and hassle for you!]
Q:
What are your artwork requirements?
Answer:
We ask for vector art created by a program like Adobe Illustrator if possible. Otherwise we can work with any format your desire. For quoting purposes you can send us a JPG or PNG. We will vectorize any artwork free of charge. Alternatively we can design the pin for you, free of charge. We've been in this business since 1971, so we'll make sure your custom enamel pin design looks awesome as an enamel pin. Did you know we have the best enamel pin design ? Visit enamelpin.info
Q:
What is the difference between hard and soft enamel?
Answer:
The short answer is that soft enamel costs less. The paint is not level with the surface.