The number one topic that we have to educate our clients about is pin scaling. There are a number of things to consider when determining what the perfect size for your next enamel pin. The amount of text and detail on a pin usually decides the size for you. Learn about the process we go through when determining the best size for your enamel pin design.
1) Print Out Your Art On Paper At Actual Size
The vast majority of submitted art is drawn at six times scale. That means we get art that is six inches wide if the desired pin is one inch wide. It's also common for designers to zoom in and out on their screens in order to see details and overlook the fact that you are zooming in on some very small details that might be illegible on your finished pin.
Remember we are stamping the bases out of metal. It's totally different than designing a logo for a website. If you print out your pin at actual size, you'll notice issues with
too much detail
illegible text
enamel areas that are too small to hold colour


2) How Much Detail Is Too Much?
Learning to design for enamel pins takes a long time. You have to completely reinvent how you design because you are using a base metal in your design in addition to enamel and electroplating. This video does a deep dive into how to use base metal in your designs.
Remember, when we stamp your design in metal, we are creating raised areas and lowered areas. Utilizing base metal for art elements like motion lines, hair or outlines is crucial. Once you grasp how to do this as a designer, you are well on your way to overcoming one of the most confusing topics in pin design.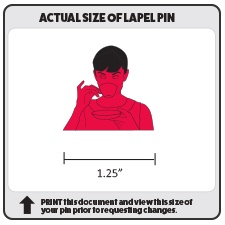 Simple designs that utilize the base metal are usually the best!
Designers often over compensate by having so many colours and so much detail that there isn't much room left over for the base metal. Our pricing includes four colours. The metal colour is free. So you can squeeze a free colour out of your design by using the base metal effectively.
Enamel Pins that include cartoon characters and the like often require quite a bit of editing on our end to remove the fine details.
The minimum area that can hold a colour is 2mm. We have a video and a cheat sheet that can guide you.
If you are not sure, contact Craig and ask for an art review. He'll send back a screencast that quickly shows the areas of concern and how to fix them.
The other thing to know is that we do not charge for art services. So if you have a draft idea together, we can finish it for you so that it's "enamel pin friendly design".

YOU MIGHT ALSO LIKE