This video is for artists who want to create enamel pins out of your paintings or sketches. Graphic designers will also learn how to structure and trace enamel pin designs in Adobe Illustrator. Pin designers and industry veteran Craig Davidiuk walks you through the process he uses when re-drawing art.
You'll appreciate the instructors laid back style and in depth knowledge. Gain valuable enamel pin design tips for making your art into a custom art pin. Time lapse and music move the course along at a fun pace.
Step 1: Pick a Metal Colour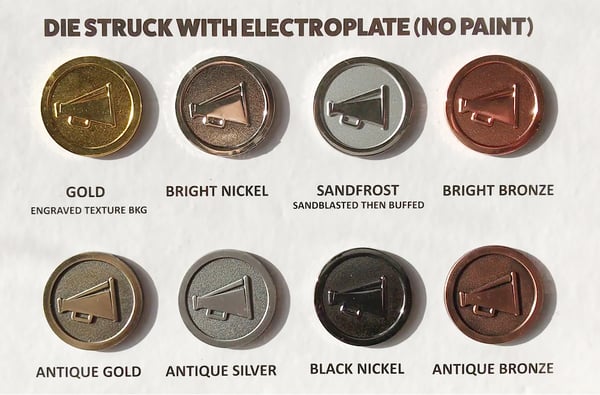 What

electroplate

goes best with your art? If you like black lines, use black dyed nickel in the soft enamel finish.
Dyed metal is a great option if you require coloured details.
Decide if your fine details are best rendered in gold, silver or bronze. Bronze is an overlooked electroplate that goes really well with turquoise and blues and greens.
Consider ditching the enamel all together and going with an antique metal pin or sandblasted
Step 2: Start big, work your way down.
Enamel pins always start with a container or shape for the design. Dynamic shapes look the best as opposed to squares and circles.
Don't be afraid to place objects outside your shape. ie- lighting bolts, text etc to un-box the design
If you are tracing your own art, start with the outside border first.
Create art in layers
In illustrator, we often use pink lines when tracing art. This allows us to see all the areas we have drawn in the event we are tracing over original art. You can easily replace the line colour in Illustrator or Photoshop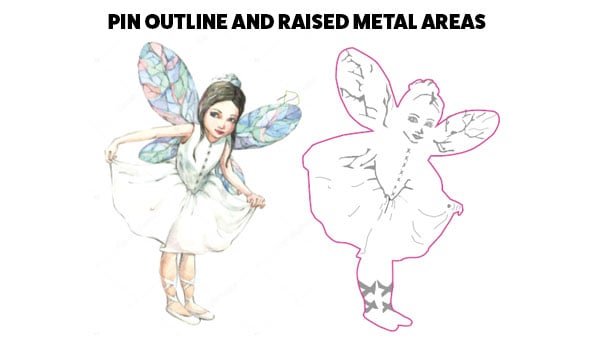 Step 3: The details!
We like to start with the easy shapes first. Now that your border is done, direct your efforts towards smaller details and shapes. You may need to overlap lines. Don't worry about perfect alignment. We clean it up later by thickening the metal lines and masking out the rough edges.
Remember, your shape has to be 2mm at scale in order to hold colour. Just trace the shapes for now. We'll colour them in later.
Don't get too hung up on a perfect trace if you are using the bezier tool in Photoshop or Illustrator. You are crafting metal lines that will be stamped in zinc alloy. It's a fairly crude resolution by the time you shrink your design down to actual.
Identify which areas of your pin are raised metal. Identify details and accents that should be metal and trace them. Use our cheat sheet to snag the metal and enamel colour chips and create a colour palette to assign a colour. Just use flat colours..no gradients.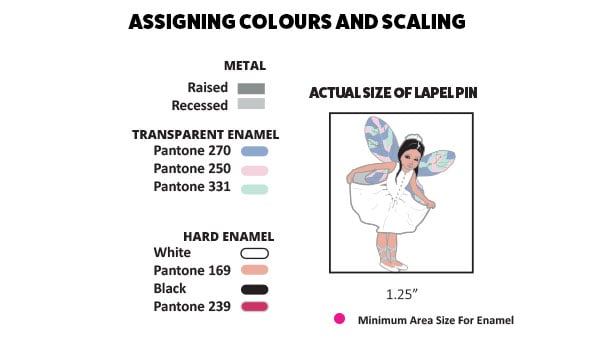 Step 4: Scaling To Actual & Assigning Colour
Load your

Pantone coated colour

book in Illustrator or Photoshop and create colour swatches out of your preferred colours. Select colours from actual Pantone book, not your monitor!

Use eyedropper tool to assign colours
Create a box at your desired size. Copy and paste your art into the box. Make sure your Adobe Illustrator Preferences are set to "Scale Line Widths".

At actual size, use the 2mm dot to determine if your coloured areas meet minimum.
Change small enamel areas to raised metal
STEP 5: Submit Art To Supplier
Send your art sketch to suppliers in vector based .pdf, .ai or .eps. You may also send a JPG for quoting purposes. Most suppliers will re-draw the art for your in the event you are not an Adobe Illustrator user.

YOU MIGHT ALSO LIKE