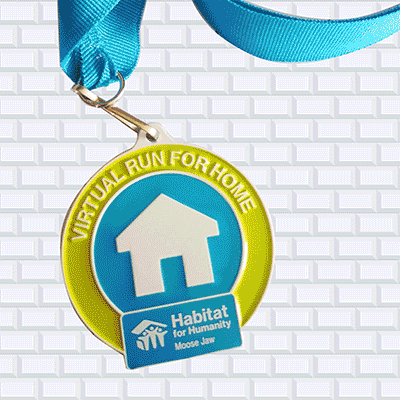 Q:
How much do custom virtual race medals cost?
Answer:

typically 2.25"
$5-7 each
Lead Time: 2-3 weeks
Perfect for virtual races virtual runs
you can get any logo and design you want.
set-up costs: $135
Take advantage of our free art service. We can usually turn a sketch around for you within 24 hours. Once we have that done, we can offer you a formal quote.
Q:
What is the difference between cast and die struck medals?
Answer:
The Die Struck process involves creating a stamping and trimming mold and die.
A metal alloy is placed over the mold and hydraulic pressure is applied to create a "die struck" imprint in the virtual race medal
This process is suitable for medals that are smaller than 3" wide and 3mm thick
The Die Cast process is perfect for larger and thicker medals. If you have 3D in your design we may need to go with the die cast process.
Ideal for medals that are thicker than 3mm.
Used mostly for national and international events where a substantial award medal is required
Q:
How long does an order of custom running medals take?
Answer:
Custom Virtual Run Medals
Budget three weeks for most orders. Rush service available upon request.
If you are getting a complex idea made or have a lot of people weighing in on design, add a couple more weeks.
Q:
What kind of ribbon choices do you have?
Answer:
We can offer standard ribbon colours and patterns. If you need a specific colour, add a week to production and we can custom dye our neck ribbon any colour you desire.
We also have full colour dye sublimated neck ribbons which allow you to imprint any pattern, photo or idea of your choosing.